ID-porten is the main login route in Altinn, and is a common solution for many public services. ID-porten is operated by The Agency for . ID-porten er den primære innloggingskanalen til Altinn og er en felles innloggingsløsning for mange offentlige tjenester.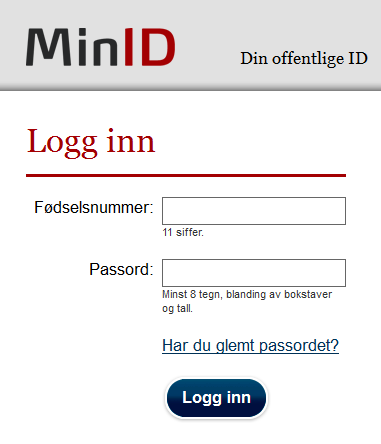 MinID gir tilgang til offentlige tjenester på mellomhøyt sikkerhetsnivå (nivå 3). Her kan du finne informasjon om hva MinID er og hvordan det brukes. BufretLignendeFor å registrere deg som MinID bruker kan du gå til denne nettsiden.
Velg innloggingsalternativet MinID; Klikk på lenken Registrer ny bruker. To with MinID you need: National identity number (or D number); Password; Single-use code from SMS or PIN code from PIN code letter. For å logge inn med MinID trenger du: Fødselsnummer (eller D-nummer); Passord; Engangskode fra SMS eller PIN-kode fra PIN-kodebrev.
To register yourself as a MinID user you can go to the this website. Select the alternative MinID; Click the link Register new user. If you have not previously used MinI you must register as a new user by following the link on the right-hand side of the log-in window. Nytt fødselsnummer; Hvorfor kan jeg ikke bruke MinID?
Min idrett; Om tjenesten; Registrere ny bruker; Logg inn.